Sihr (Magic)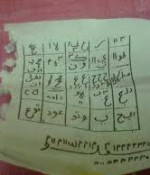 February 18, 2021
My husband recently divorced me due to Sihr done by his mother. How do I get ruqyah done on him?
Full Story»
While engaged to a girl that I dated, I met another woman, beautiful in both looks and deeds. I was confused what to do so I prayed Istikhara, had a dream, and am wondering what it means.

My marriage from day one has had more downs than ups, i feel like im in a nightmare, i want this marriage to end.

We think that her husband has put Jadoo on her as his family hate my Father. We do not know what to do…
More in this category