Guilt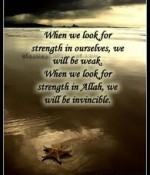 September 9, 2018
I desire very much to get married and have children (if Allah wills) however I fear that I will be miserable.
Full Story»

I am absolutely heartbroken. I wanted him. I dream about him all the time. I can't see myself with someone else. It's not fair he can move on so easily.

Though I love my husband I somehow regret marrying into such a family…
I am afraid of dying, what if my heart stops because I promised on my heart?
More in this category