Sexual Issues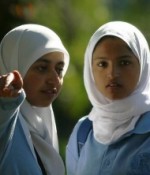 July 5, 2019
When i see her i usually think she's so pretty or her eyes are a really nice colour and suddenly in my head something tells me, "that means you like her more than a friend."
Full Story»
I would NEVER in my life want to get sins over a few seconds of pleasure. It is basically a trade off, should I look at this picture and masturbate for a couple minutes and feel more pure in the mind, or should I be burdened by the constant haram pictures in my head?
When we have sex my husband says he doesn't enjoy it with me. This makes me feel so unhappy and I feel like I have done something wrong.
I got introduced to the concept of masturbation and sex when i was 10 years old. I am 28 now and I am going through an existential crises. I dont understand the purpose of my life anymore.
More in this category