How can I get our marriage back on track?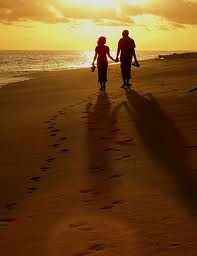 We have been married for a few years now..
We met in college. She appeared to have the potential to be a good wife (at the time). Her family seemed to observe Islam and Islamic values (like mine). I shared with my family my intention of wanting to get married to her. My parents approached her parents. Both parties appeared to like each other and we ended up getting married without any significant hurdles.
I hoped to live happily ever after..but it didn't quite turn out that way.
Honestly, I'm not sure what happened or where things went wrong, but we seem to have been fighting over anything to everything right from day 1. She does not seem to agree with me on much of anything. She always has an issue with my opinion or point of view.
Before we tied the knot, I saw a simple innocent girl in her with a clean heart. I can safely assume that she thought of me to be a great guy as well. So what happened afterwards? Well, I don't know. All I can share are the symptoms and hope that someone out there is able to triage and suggest a cure.
She does not appear to have any of the "wife" attributes  (don't judge me yet, just keep reading). She's more like a roommate. It's like - we just live together and she comes home to sleep. She seems to be out most of the time. She never cooks. Forget me, doesn't even ask a guest for a glass of water or a cup of tea. She never cleans. She never dresses up for me (don't judge me - but come on - once in a while doesn't hurt). I try everything in my power to look and even smell good for her. More importantly, she has not let me touch her intimately in 4-5 years now (which is pretty much 3/4th of our married life so far) . She gets mad at me over the tiniest things and starts screaming and cussing - does not matter if there are friends or family around us. I'll be honest: when, as a husband, I see myself getting disrespected by my wife consistently and frequently, and at times even in front of others, I naturally try to self-defend in whatever humane form or fashion I can.
Note that she is not all that outside the 4-walls of the house. In fact, she is quite the opposite. She is charming, funny, and sweet to others. She has turned into a social butterfly. She often goes out with her friends or colleagues and she dresses up very nice for all of that. Sometimes, the dressing is somewhat inappropriate - tight clothing and very low cut (if you know what I mean), etc. When I point that out, she gets extremely mad. Sometimes she disappears for hours and comes home late. I have stopped calling her on her cell phone or asking her about her whereabouts, because that's another trigger for her to start a fight. I don't see a wife in her AT ALL. Do you?
On top of that, she is not fair to my parents either. I won't go into too much detail nor do I have extremely super expectations from her, but one has to have some basic etiquette (seriously!). I'm nice to her parents and respect them. The least she can do is return the favor. She does not even ask my parents if they've eaten or taken medication or if they need anything from the grocery store, or if they want to go somewhere. I know that's my responsibility and I have been handling that. My thought is that she should be able to at least take care of her in-laws to some extent and share my responsibility a little - just to show her love for me if nothing else.
She does not want kids because interestingly she does seem to understand and acknowledge that we fight a lot, and she says that under those circumstances bringing another life into the mix may not be the right thing to do. I totally get that, but then I tell her to not do the things she does to destroy this marriage. For whatever reason, she sees that as me criticizing her and not letting her live her life. Little does she realize that it's our life together now, and she is no longer a college or a high school girl, where it may be okay to chill with friends and have fun all the time. She does not give me much time or attention. Even when we're home, sitting under the same roof, in a single room, she would either be watching her TV series or text'ing people on her cell phone.
She has changed overtime and has become more Westernized than the girl I knew back in college or how I perceived her to be after meeting her family who seem to be traditional and pious people. She goes out with her female as well as male friends. She tells me that she likes to socialize and have a good time (whatever that means). She says to me, "I have a life, I like to have fun, I'm not going to sit at home and do nothing" - she sees my questioning of that as me criticizing and threatening her freedom. In fact she takes it as if I'm one of those men who suppress women's rights by not allowing them  to do anything - which is not what I mean, but she doesn't get it. She tells me that I need to accept her as she is and to not force her to change. I think we both have to adjust ourselves voluntarily given the kind of bond we're in. We both may have to disregard certain "legit" habits of each other - but frankly, I'm not sure how to ignore some of her attributes I summed up above.
I am at a point, where I'm exhausted. It feels like I'm wasting my time. If it were only me, I would've just made peace with the situation and accepted it to be my fate. However, I have old parents to look after - and I want them to be happy - and life with her is certainly not helping their health. Moreover, I love kids, and I'm not getting any younger, neither is she. I think it's high time that we start a family (before, God forbid, one of us is medically not able to conceive) - of course, I fear for what would happen if she continues to be the same way when the baby comes. The plan would backfire - maybe then I'll regret even ever wanting to start a family just like I'm regretting marrying her.
I am in need of help. Tell me something concrete that can be acted upon realistically. E.g., if you tell me to go counseling, I will, but she won't - so that may be useless. If you tell me to have a chat with her, well I have tried that many a times and it usually concludes into a fight. If you tell me to involve her parents, well I have done that multiple times - either she ignores what they tell her or they tell me to go easy on her (something along those lines - in other words - not much help). If you tell me to divorce her; well, frankly that's an easy way out. I want to address the situation, not jump off the ship. I think I still believe that the good-at-heart girl I once fell in love with is somewhere in there. I'll tell you why I say that - I say that because while I highlighted majority of what she sems to me to be about, I don't mind acknowledging that there have been times when she's fluctuated back and been kind to me. Key examples would be: when I lost my job she was there to encourage me; when I got very sick she was there to look after me, etc. Good deeds like this melt me and force me to change my mind. It's all that or maybe I'm not sure if I can find anyone else and thus afraid of being alone. Maybe I'm scared that even if I do find someone else, what if she turns out to be as bad as what I have to deal with majority of the time. I'm confused!!
insaan
25 Responses »