The "New Hijab" styles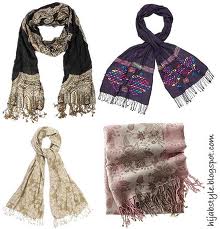 AssalamuAlaikum,
I just want to put a disclaimer before writing this that I am in no position in judging or refuting ayone who does this or has a strong feeling towards this, i am only here to know what is right and wrong and hear some of your thoughts on this and decide for myself.
Lately, I have been thinking to myself and seeing with my own two eyes the different types of Hijab styles there are in the world/social media, and one that i find pretty strange is the one where a sister wears the hijab but does not cover the front part of her hair? Is this permissble in Islam?, i have tried researching but have not yet found my answer for this. I fear to speak out to the young generation about this as the usual responses I get is "its my choice" "you're no one to judge and comment this i can wear it the way i want, i pray 5 times a day you cant judge me" however i am not judging, all i want is a simple answer whether or not this style of head covering is permissble or not.
If its possible please comment with authenticated research.
Jazakallahu Khairan.
I hope i have not offended anyone, that is purely NOT my intention to do so.
Maliha..a
12 Responses »