I'm losing my friends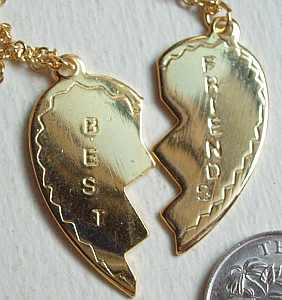 I am 16...
I am a Muslim male...
I have bad habits..
D only worst habit I hav Z surfin d internet for haraam..
No I don't smoke or do anythin else..
Wen I was a kid my bestfriend left school..
I got my next best friend wen I was 15..
She was a girl..but a non Muslim though..
On the begnin of last year we had a smal problem and she left me..
Again a girl became my best friend..although she is not a Muslim.. She was very close to me.. She cared about me.. But she lied to me..
I got hurt and told her that I know she is lying.. She did not accept but left me..
It really hurt me really really hard..
I was soooooo broken hearted..
I cried to Allah..
I did tawba..
I asked dua..
I asked Allah please don't take her away from me..but she finally told me in front of all my friends that we r no longer even friends....
Then i met two other girls...a Muslim one and a non Muslim one..
they became my bestfrnds..
as time went on..
I loved them as my sisters...
i red for them as my sisters..
But somehow my earlier bestfriend had told the something..they think I lied to them in with I did not..
I even lost many valuables within these days..
it is s if all the problems are happening o me..
Plz help me..
I neeed these two bestfriend of myn..thry mean so much to me..i love them as my sisters..
I can't bear to lose them..
Soo please.please please help me..
I just need them back
and they r goin far away from me every second
Pleasse help me
DGHE12345
Tagged as: accused of lying, best friends, friends, friendships, losing friends, teen issues, Teenagers Issues
2 Responses »
Leave a Response