Ghusl after injury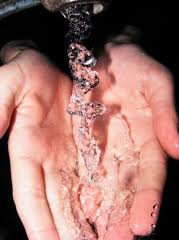 Asslam-u-Alaikum Brothers and sisters,
My problem starts like this. Last night as always I set an alarm to wake up for Fajr but unfortunately I was in a too strong sleep. The alarm kept ringing for 15 minutes, and after 15 minutes I finally woke up. I went to the other room to shut down the alarm. I shutted down the alarm and just as I shutted down the alarm I felt so weak and darkness started to come before my eyes. And as to my fate I lost consciousness. I regained consciousness and found that my were surrounding me and that I had a severe injury on my head.
I got myself up, and we went to hospital. The doctor operated me and i had several stitches. The real problem starts now. i got home and found out that I had a ejaculation while sleeping. The doctor had put bandage on my head and told me that the stitches were not to be tampered with. It's been 12+ hours since all of this happened, and I am just too much confused to how to take a ghusl or what else to do than a ghusl ?
Thanks in advance.
Hamas16
4 Responses »