Cut ties with my abusive father, is it a sin?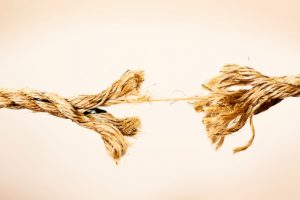 Hello. I am a young man questioning the legitimacy of me practicing islam in proportion to my non existent family relations. The background to my family situation is long, but it did visibly become toxic when I was 12. My father and I used to fight constantly and all types of bad words were hurled from both me and him.
This on top of me switching  to another school made me severely depressed and anxious. My father was convinced that I had some type of issues and forced me to go to various shrinks to figure out if there were something wrong with me.
At this point I was 13 and my relationship to my father was practically dead. We never spoke to each other and if we ever did speak it usually spiraled to loud  incoherent verbal abuse. It even got so bad that my dad used to bully me in front of my siblings - with the intent to humiliate me.  One of these fights were so bizarre that my father resorted to slapping me so hard that I cried uncontrollably.
I was 13 at that point and from there I lost faith for both my father and younger brother for never having my back. So this "relationship" continued for two consecutive years before my father decided to repeat his going to shrinks without consulting the one hes forcing to pattern. With this shrink I through sheer anger spilled about the incident about when my dad hit me, as a result the shrink contacted social services. My father who has no shame decides to tell our family handlers over at the social services every bad thing I've ever done, he even told them a mischeif I comitted when I was literally a toddler.
During one of these meeting I made a remark to move to another home, and the social services said that this could be done. When I was 16 I moved out from my family home and into an apartment.
The only contact with my family that I have an ok relationship with is my mother, and even then we most of the time ignore each other for months on end. Ive tried numerous time through me discovering Islam when I was 19 to be kind to my siblings and father, but Ive had enough, and I cant tolerate them any further, no amount of convincing can tell me otherwise, they're not my kin.
I feel these emotions for my mother too through numerous fights and the fact that she doesn't seem to understand my situation have truly wounded me as a character.
Here's the Question:  I've read numerous sources that the Muslim who cut ties with siblings and parents will not receive neither ease or heaven, only humiliation. Is it with this in mind, that even now that I've cut ties with my family who I cannot stomach anymore continue with my faith? Should I continue to pray and practice Islam even if it means im committing this grave sin or should I just abstain from practicing all together? Thank you for reading.
- Someone22
Tagged as: abusive father, cut ties with father, cutting family ties, cutting ties, foster care, social services
20 Responses »
Leave a Response