Having problems with living as a joint family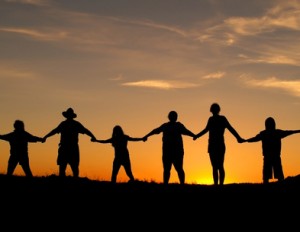 My wife and I live in a very progressive environment and were married in a semi-arranged fashion. We both love each other very much and, for the sake of my parents (especially my mother as she is quite sick), a condition to marriage from my side was that my wife would agree to live amicably in a joint family arrangement (my father, my mother, me and her). She agreed and we both had a lovely wedding and honeymoon.
However, soon after our relationship started to deteriorate as, according to her, she was having difficulty adjusting to the expectations of my parents. Such adjustments range from trivial in nature to more serious ones such as waking up earlier than she is used to (around 10 am rather than 12-1 pm as she used to in her house prior to marriage) and preparing meals of the house.
My wife consistently tells me that it is not her responsibility to take care of my parents. I agree with her as I am knowledgeable atleast to this extent about my wife's duties to my family and I in Islam. However, as a son I have an even greater responsibility to my parents. I owe them everything, I love them with all my heart, I would give my life for them without any hesitation and I would not even be half the man I am today without their love, kindness and guidance. My mother is a very sick woman and she has never committed a wrongdoing on my wife. My mother and wife have very different personalities and I do not see them getting to be "friends" as is the nature of different people.
I am so stressed out as I never talk back to my parents and also I know I cannot ask my wife to serve them Islamically as she has no obligation to do so. My parents are more traditional and expect her to take care of the house the same way my mother did and her mother before her. I have lost my appetite and sleep and have had very little of both over the last 2 weeks and it is beginning to show. I would really like some advice on how I can make this situation work. I have obligations to my parents AND my wife. I am at a loss of how I should satisfy both.  Any advice would be greatly appreciated.
 stressed
15 Responses »