Our marriage went from best to worst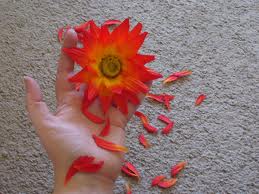 Asalamu alaikum to all, I hope you are all well.
I am a recent revert to Islam. I've always struggled with religion in my life. Last year I met a man on Craigslist looking for a friend without anything sexual. I was excited to find we shared so much in common. We only talked on the phone at first. He told me he was Muslim and I had no problem with that, as I've always liked learning about new religions and Islam was very mysterious to me. We ended up meeting and we were instantly attracted to each other, but we kept ourselves in check mostly. Nothing besides kissing once in a while. He taught me about Islam a great deal and I was very interested. I loved listening to stories about the Prophet saws, and hearing the principals of Islam made me grow closer and closer to it. I began to love Islam and this man. Islam made so much sense to me. It answered all the questions in a common sense way that no other religion had ever been able to for me. And this man was charming and enigmatic with a stable life, He had fallen in love with me too, even though at the time I was still a kaafir technically.
He began to feel guilty. He would call me to say we couldn't see each other anymore unless we were to be married. I knew I loved Islam and that Allah swt was the one and only God and thought maybe I should go ahead and take my shahada. He came to my home and I took my shahada with him as my witness, and I instantly felt a calm and peacefulness come over me- it was beautiful. He asked me if I would marry him not long after that, and I said yes. All of this was done with my mother knowing, as I have no male relative anywhere near. She loved him also, and thought it was a great idea.
I began wearing hijab, praying right away, learning how to properly make wudu/guhsl, and learned the arabic I needed to make salaah and dua at a basic level. We made istikhara for our marriage, and it seemed to all fit so perfectly. So many things happened miraculously- it was incredible. It was like having physical proof of Allah swt tangible to us. Amazing...subhannallah. It made me love Islam so much more. Our wedding went off without any problems and alhumdulillah, it was the best day of my life. The imam acted as my wali and it was very nice. I felt so loved. We did everything according to sunnah and Quran it was very orthodox. We went off alone after this and consummated our marriage that night.
We were very happy and the next couple of days I moved in with him. He was renting a room with an older kaafir man and this didn't work out for too long. We ended up having to move in with my mother, and since then so much has changed between us. I'm now 2 months pregnant, and I am sad as we fight constantly about dumb, small little things. I changed a great deal of myself to fit into the lifestyle of Islam and to be someone that makes him happy, but he is not happy. He is very depressed that we live at my mother's. He works very hard from after fajr to after mahgrib to make money that all gets completely spent on his son from his previous marriage.
On top of this, his ex wife will not let him have his son for time alone together unless she gets to know me. But sadly I feel she may be using their child to stay in my husband's life, and have power over him and connection to him. They text a lot, and it makes me very uncomfortable, but he says he is just sending her islamic info to benefit their son. He doesn't want to to tell her that I am pregnant because he doesn't want her to be sad and affect our child with evil eye.
I feel very bad about myself that I have changed so much for him and it is not meaningful to him. He says he is stressed with money -which I believe- but he is taking it out on me and it is destroying our happiness. He pays hold support but is actually supporting his son, his ex wife who doesn't work because of a handicap, (may Allah make it easy on her) and her other two sons that she had with a kaafir man in a previous marriage and who doesn't pay any hold support. So he pays for a family of 4 to live, when he is only responsible for half of his son's expenses. He feels obligated, but is he? He can't give her money and expect her to only feed and clothe the son they had together. She does not think well of me, which I understand as I am his new wife and I can't say I'd feel differently.
But subhannallah, we are trying so hard to make things work and they just aren't. I'm very sad. My life feels over. My husband is stuck paying for this family to live, (may Allah swt reward him) but now we have nothing to live on ourselves. We can't even afford to have a place of our own or food for ourselves, let alone be able to have a life outside of work and house chores. We do not know any other Muslims to talk to or seek help and guidance from. We are so worn out, defeated, depressed and tired all the time from work; and me being pregnant does not help the emotional and tired aspect. We are both waiting for Allah swt to bring us ease for our hardships, but it doesn't seem to come. We are starting to attack each other and be mean and careless of each other's feelings because of how defeated and overwhelmed we are. It is sickening. We both are giving up. We don't even sleep together anymore, we fight so much. It's a very sad and depressing turn of events, when at first everything seemed to be going so well. Now we are tired, depressed, broke, defeated, angry, hurt.
I am feeling a little jealous that he is so close to his ex wife still, and is now not happy with me anymore. I don't know what to do. We are stuck at my mother's house with no financial ease in sight, such that I'm not sure we can take care of our baby when we have it. I've considered adoption- as horrible and depressing as that thought is for me- but my husband must take care of his first born, so what choice do I have? I keep making dua and trying to learn more about Islam and feel close to it again, but this is so difficult it is making my heart cold to everything. I'm sorry this was so long, but I really don't know what to do in this situation. Please, any help or advice is greatly appreciated. Words of wisdom or past experiences...anything I would be grateful for. Thank you all and jazakallah khair. I hope to hear back soon.
-maimuna_swann
9 Responses »