Problems with my wife…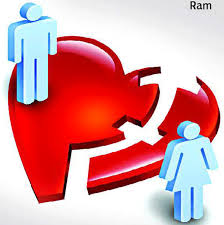 Hello,
i married about 1 year ago. After the marriage, in our first night, she told me that she was not ready for sex. So i said no problem, i can wait. But this is how destruction started. In our culture the woman often say No but acutally she want you to win her over, but since i didn't grow up in her culture, i didn't know this (and thats why her parents think i have some problems, i may be gay or something - what is absolutly not true) and in my culture (we currently live in different countries - i grew up an western culture) we learn that you should not force anyone to do something they don't want to ... after a few days i noticed that my wife was more busy with chatting via mobile phone then spending time with her new husband, me. Sometimes i was sitting next to her and instead of talking to me, she was chatting with someone else. So i spoke to her that i don't like this, i feel like ignored.
Later i saw by chance who she was chatting with, it was someone from her college, she shared with this guy a lot, i noticed that they both are pretty much close. So i talked to her about this and she replied that he is just a friend and that she understood that i am suspecting her now , i said that i just want to know the truth.
I asked her to explain me why he is asking you something like "if your marriage was not set, would you marry me?" and other conversations (e. g. the guy asked her: "can we talk? i can not sleep without talking with you ...") and there was a lot of other hints and indications that made me curious what this guy and my wifes relation is. And i am sure that this guys has feelings for her. What i am not sure is, if my wife does have feelings for him (my wife says no, but her action speed something else).
She told me that there is nothing between them two, but before i could read the whole chat (i only read the chat of last few days), she deleted it. This broke my trust in her. My opinion is, that if there is nothing, she should have open up to me and show me everything just to make me feel secure, but she didn't ... so after that we argued a long time, till my parents and her parents knew this, and everyone tried to solve the problem.
I forgave her and wanted to forget the past.
But now she is doing it again, she blocked my number so i don't see her online times, but i got the information from someone else (i didn't spy on her) that she is using her mothers number in a <app> to chat. So i got a new phone number and just to see if it's true and then so see her online times, since i have all her friends number too, i compared the on/off times. For example, i talked to her by phone about 12 pm, she says she wants to sleep now, and then i see her a few minutes later online in <app> for 1 and sometimes 2 hours late into night.
Why would i not suspect her if she hides from me and lies to me?
I have constantly the feeling that she is quite cold with me, because I know if how she can be if she gives love and warmth. Thats what makes me sad.
I go to work, i try to provide for her and make her happy, save money for our future, planing our honeymoon and everything i get back is her coldness, zero love and lies. I don't know what i should do now.
Should i talk to her again and risk our marriage? In the past i tried to educate her about what islam says about marriage etc. but it looks like its useless.
My main problem is  that she says that there is no one else in her life and there is no one she loves and that woman marry only ones in lifetime and that she wants to keep this marriage. Thats what irritates me, thats why i don't understand why she is hiding, have secrets and lies to me and threats me cold-hearted, she even dont want much intimacy with me and the love i have for her, she doesn't have love for me (unrequited love).
Thanks for your time.
maya2558
12 Responses »